Bashar Barakah Jackson, also known as Pop Smoke, was an American rapper. He was known for his breakout single "Welcome to the Party," Brooklyn's Pop Smoke combined gravelly vocals with erratic production to become the face of Brooklyn's rising drill scene.
Within a year of his debut, he rapidly increased in the mainstream, landing in the Top Ten with his sophomore mixtape Meet the Woo, Vol 2. Tragically, soon after achieving this chart peak, he was gunned down on February 19, 2020.
Early Life
He was born on July 20, 1999, in Brooklyn. His mother is Jamaican, and his father is Panamanian. He was expelled from eighth grade for bringing a gun to school. He was on house arrest for bringing a weapon to school for the next two years. He had an older brother named Obasi.

He mentioned that his stage name was inspired by the names Poppa and Smocco, which were given to him by his grandmother and childhood friends, respectively.

Smoke got his start in music almost by accident; during studio sessions with various associates in 2018, Smoke secretly began to record his vocals. Couched firmly in Brooklyn's rising drill scene, he combined his booming, smoky vocals with the sonics of Chicago and London drill, producing an explosive collection of street-driven anthems.
---
Career
After remixing Sheff G's iconic "Panic, Pt. 3" for his debut single, "MPR," Smoke released the follow-up single "Welcome to the Party," produced by U.K. drill's 808Melo Racking up millions of streams in just days, Smoke's track swiftly became Brooklyn drill's most significant success thus far, prompting remixes from the likes of Skepta and Nicki Minaj and bringing the local subgenre to the international stage. Capitalizing on his rapid rise, Smoke released his debut project, Meet the Woo, in July 2019, produced exclusively by 808Melo.

After Meet the Woo spawned the second key hit "Dior," Smoke rounded out 2019 with an appearance on Jack Boys, the chart-topping compilation from Travis Scott and his Cactus Jack crew.

Kicking off 2020, Smoke issued a Meet the Woo sequel featuring artists from Quavo to A Boogie wit da Hoodie. The mixtape, titled Meet the Woo, Vol. 2. continued the work of his drill-heavy debut, paying homage to the genre's U.K. roots through a Charlie Sloth freestyle while expanding on the melodic aspects of the Brooklyn scene. This project saw even greater success for the rapper, peaking at number seven on the Billboard 200 and charting across Europe.

However, weeks later, on February 19, Pop Smoke was shot during a home invasion and died at 20.
---
Pop Smoke Outfits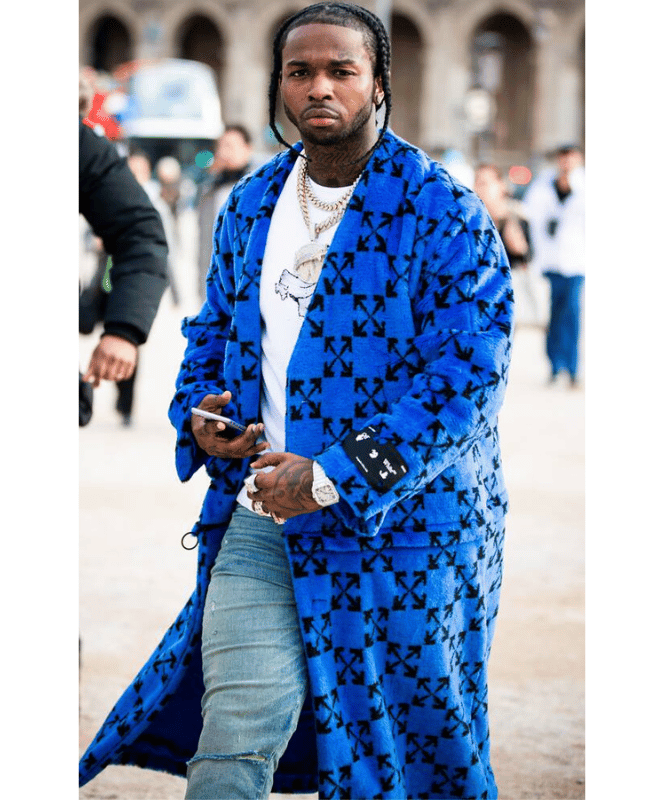 He wore an arrow-patterned long blue coat over a printed white T-shirt and ripped blue jeans.
His signature micro-braids are going well with the whole look. Gold statement necklaces around his neck make a huge statement.
The first thing to notice in this look is his gold necklace with his name on it on his studded white T-shirt.
His tan jacket matches his brown glasses, and rose gold studs complement the look.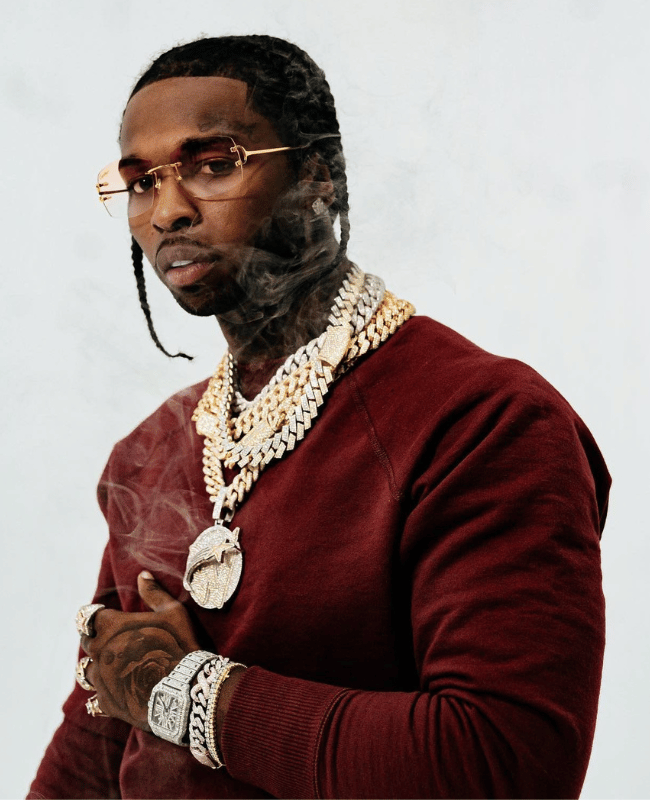 Here, he was wearing a maroon long-sleeved T-shirt with gold necklaces around his neck. The lockets match his watch and bracelet around his wrist.
He can be seen wearing multiple rings that are also gold. His transparent tan glasses also complement his look.
---
Wiki | Bio
Net Worth
| | |
| --- | --- |
| Net Worth in 2020 | $ 2 Million |
Personal Information
| | |
| --- | --- |
| Real Name | Bashar Barakah Jackson |
| Nickname | Pop Smoke |
| Occupation | Rapper |
| Birthday | July 20, 1999 |
| Age | At the time of his death on February 19, 2020, he was 20 Years Old (Calculate Age To Current Date) |
| Birthplace | Brooklyn, New York City |
| Zodiac or Birth Sign | Cancer |
| Nationality | American |
Physical/Body Statistics
| | |
| --- | --- |
| Height | 5 feet 10 inches (178 cm) |
| Weight | 68 kg (150 lbs) |
| Chest | Unknown |
| Waist | Unknown |
| Hips | Unknown |
| Shoe size | 10 US (43 EU) – 280 cm |
| Hair Color | Black |
| Eye Color | Dark Brown |
| Have Tattoos? | Yes |
Family
| | |
| --- | --- |
| Mother Name | Audrey Jackson |
| Father Name | Greg Jackson |
| Brother's Name | Obasi Jackson |
---
Quick Facts
Calculate Celebrity Age To Current Date
Where Was Pop Smoke Born?
Pop Smoke was born in New York City, U.S.
When Did Pop Smoke Start Rapping?
Pop Smoke started his musical career in late 2018 with his debut single "MPR (Panic Part 3 Remix)".
Who Was Pop Smoke Signed To?
Pop Smoke signed a recording contract with Victor Victor Worldwide and Republic Records in April 2019
Who Is Pop Smoke's Father?
Pop Smoke's father is Greg Jackson, a Panamanian man.
Where Did Pop Smoke Grow Up?
Pop Smoke grew up in Canarsie, Brooklyn. He attended nine different schools while growing up.
What High School Did Pop Smoke Go To?
Pop Smoke went to Rocktop Academy, a basketball school in Philadelphia. He was later forced to leave after being diagnosed with a heart murmur.
What Are Pop Smoke's Braids Called?
Pop Smoke's braids are called cornrows, a type of hairstyle where the hair is braided close to the scalp in straight rows.
What Are Pop Smoke's Braids?
Pop Smoke's braids are part of his signature look, tattoos, and jewelry. He often dyed his braids in different colors, such as blue, red, or blonde.
---
Article Sources

(1) Pop Smoke - Wikipedia. https://en.wikipedia.org/wiki/Pop_Smoke.
(2) POP SMOKE - YouTube. https://www.youtube.com/channel/UCSaPKJpNd-Mkm6hhelIYSlQ.
(3) POP SMOKE - DIOR (OFFICIAL VIDEO) - YouTube. https://www.youtube.com/watch?v=oorVWW9ywG0.