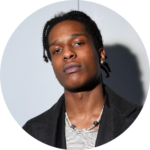 Real name: Rakim Mayers
Heights: 5ft 10in (178 cm)
Net Worth: US $20 Million
A$AP Rocky is a rapper, songwriter, and record producer from Harlem, New York City.
A$AP Rocky's fashion style is often described as a mix of streetwear and high fashion, with a focus on bold and colorful outfits. He frequently incorporates designer pieces into his looks, such as Gucci, Raf Simons, and Rick Owens.
A$AP Rocky's fashion style can be described as bold, eclectic, and unapologetic. He is not afraid to take risks with his outfits and has become a style icon for many in the fashion world.