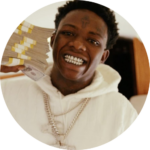 Real name: Pierre Delince
Heights: 5ft 10in (177 cm)
Net Worth: US $3 Million
Jackboy is an American rapper, singer, and songwriter from Florida, known for his unique style of music that blends elements of trap and drill music.
Jackboy's fashion style can be classified as a mix of streetwear and hip-hop fashion, with an emphasis on comfort and practicality. He often combines designer pieces with affordable streetwear brands to create his unique look.
Overall, his fashion sense is representative of the current trends in hip-hop fashion, which prioritize a relaxed and effortless aesthetic.