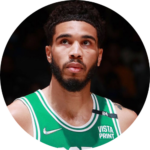 Real name: Jayson Christopher Tatum Sr.
Heights: 6ft 8in (203 cm)
Net Worth: US $30 Million
Jayson Tatum is a professional basketball player known for his impressive skills and style both on and off the court.
Tatum's dressing style can be characterized as sleek, modern, and edgy. Off the court, Tatum is frequently seen in stylish streetwear ensembles. He embraces urban fashion trends, often seen wearing designer sneakers, hoodies, distressed jeans, and statement accessories.
He is a fashion-forward individual who embraces both formal and casual looks, and his ability to effortlessly combine different styles sets him apart as a fashion icon in the world of basketball.