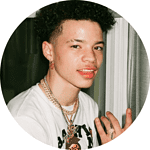 Real name: Lathan Moses Stanley Echols
Heights: 5ft 7in (170 cm)
Net Worth: US $3 Million
Lathan Moses Echols, better known as Lil Mosey, is an American rapper, singer, and songwriter.
Lil Mosey's outfits are a blend of streetwear and high-end fashion. He is also known for wearing bold and colorful outfits, which reflect his personality and sense of style.
Lil Mosey's fashion has been recognized by many fashion magazines, and he has been featured in GQ magazine's "The Most Stylish Men Alive Right Now" list.