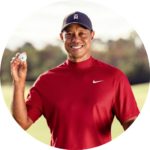 Real name: Eldrick Tont Woods
Heights: 6ft 1in (185 cm)
Net Worth: US $1.1 Billion
Eldrick Tont Woods, known as Tiger Woods, is a retired American professional golfer considered one of the greatest in history. He has won numerous major championships and broken many records in the sport.
Tiger Woods' dressing style is classic and preppy, with a focus on comfort and function. He often wears traditional golf attire such as polo shirts, khaki pants, and golf shoes, and favors understated and practical fashion choices.
Overall, his fashion style type can be described as classic, conservative, and simple, reflecting his no-nonsense approach to golf and life.