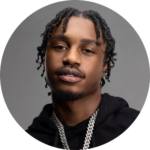 Real name: Tione Jayden Merritt
Heights: 5ft 10in (178 cm)
Net Worth: US $600 Thousand
Lil Tjay, whose real name is Tione Jayden Merritt, is an American rapper, singer, and songwriter.
Lil Tjay is often recognized for his signature braided hair. He typically styles his hair in cornrows or box braids, sometimes complemented by a bandana or headband. This distinctive hairstyle has become a part of his overall image and fashion aesthetic.
Lil Tjay's dressing style aligns with the urban streetwear fashion, characterized by a mix of high-end designer pieces, casual and comfortable streetwear, and bold accessories. His fashion choices reflect his youth, individuality, and connection to hip-hop culture.