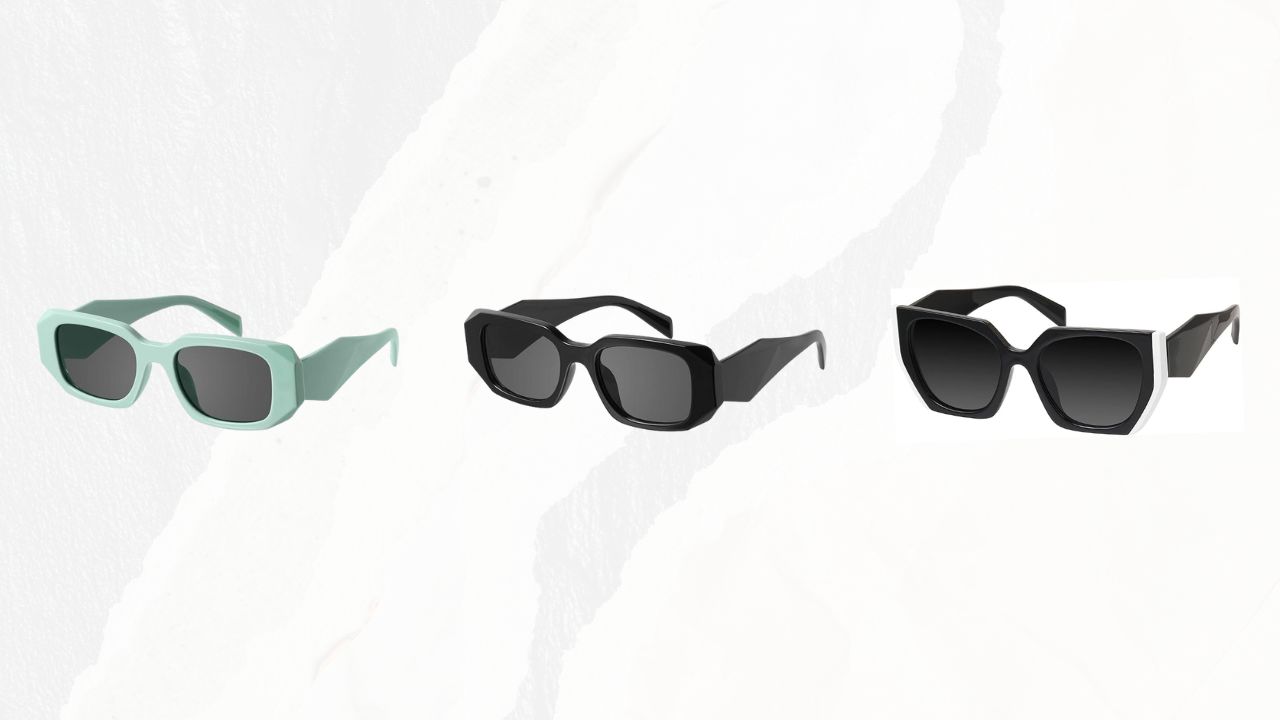 Anyone with an interest in fashion will know how influential Prada is. Since the brand was founded in 1913, it has been a trailblazer, specializing in high-quality shoes, bags, and other accessories, like sunglasses. Stylish sunglasses are a celebrity staple, and Prada's iconic shades are some of the most widely worn. They're favorites of stars like Jennifer Lopez, Beyonce, and Taylor Swift.
But these trendy sunglasses are costly, so many seek out lookalikes instead. We'll explore some of the closest affordable Prada sunglasses alternatives below.
---
Emily Ratajkowski nails street style in her Prada Sunglasses
mosanana
Trendy Rectangle Sunglasses
For a similar look, try the mosanana Trendy Sunglasses, priced at just $14.99. These sleek glasses return to retro fashion with chunky arms, rectangle frames, and UV-resistant lenses.
---
Leonie Hanne is chic in Prada High Bridge Fit Sunglasses
LYZOIT
Polarized UV Protection Rectangle Sunglasses
LYZOIT make their answer to Prada's original: their $15.99 Square Sunglasses for Men and Women. These unisex glasses are glossy and easy to wear, with an oversized box design that flatters all face shapes.
---
Meredith Duxbury Wears Prada Runway Sunglasses To Prada Event
COASION
Outdoor Sport Shades Eyeglasses
The first alternative to this pricey Prada pair, these shades nail the unique high-fashion look. Their flexible wrap-around frames, sleek arms, and tinted lenses wouldn't look out of place at a fashion show.
grinderPUNCH
Wrap Around Frame Sunglasses
This second pair fully embraces the shape that the originals lean towards, with darker lenses and those same unique wrap-around frames and arms. They're an excellent high-fashion dupe.
Sadie Sink looks chic in Prada Cat-Eye Sunglasses
Fashion Eyelinks
Retro Cat Eye Sunglasses
Fashion Eyelinks makes a great Prada dupe with their Cat Eye Sunglasses, priced at $13.99. They nail the casual-chic look of the original with attractive cat-eye frames, slim arms, and anti-UV lenses.
---
Rachel Zoe rocks the Prada Round Frame Sunglasses
Emblem Eyewear
Round Circle Fashion Designer Sunglasses
Slip on the Round Circle Glasses by Emblem Eyewear to achieve a similar look, priced at $12.49. The oversized round frames nail bohemian-chic, with a sophisticated tortoiseshell design and cute gold arms.
---
Prada Oversized Geometric-Frame Sunglasses
mosanana
Square Cat Eye Sunglasses
The mosanana makes the list again, with their $14.99 Square Cat Eye Sunglasses. They have a similar two-tone design, with bold geometric frames and fashionable dark lenses.
---
FEISEDY
Retro Square Aviator Sunglasses
Serving Prada style at just $14.99, the Retro Square Aviator Sunglasses by FEISEDY are a solid lookalike. They're oversized for men and women, with those same dark lenses and bold square frames.
---
Prada Sculpted Rectangle-Frame Sunglasses
mosanana
Trendy Rectangle Sunglasses
The mosanana sells another great pair of shades, mirroring the cute, fun vibe of the Prada Sculpted Sunglasses for a much more reasonable $14.99. This lookalike pair is also mint green and avant-garde, with 100% UV protection.
---
When it comes to style and craftsmanship, Prada never misses. That's why their celebrity-endorsed sunglasses are so popular, though the prices could be more budget-friendly. Luckily, the nine Prada sunglasses alternatives discussed above are all available for great prices on Amazon, so you don't need to break the bank to enjoy some red-carpet-ready eyewear.