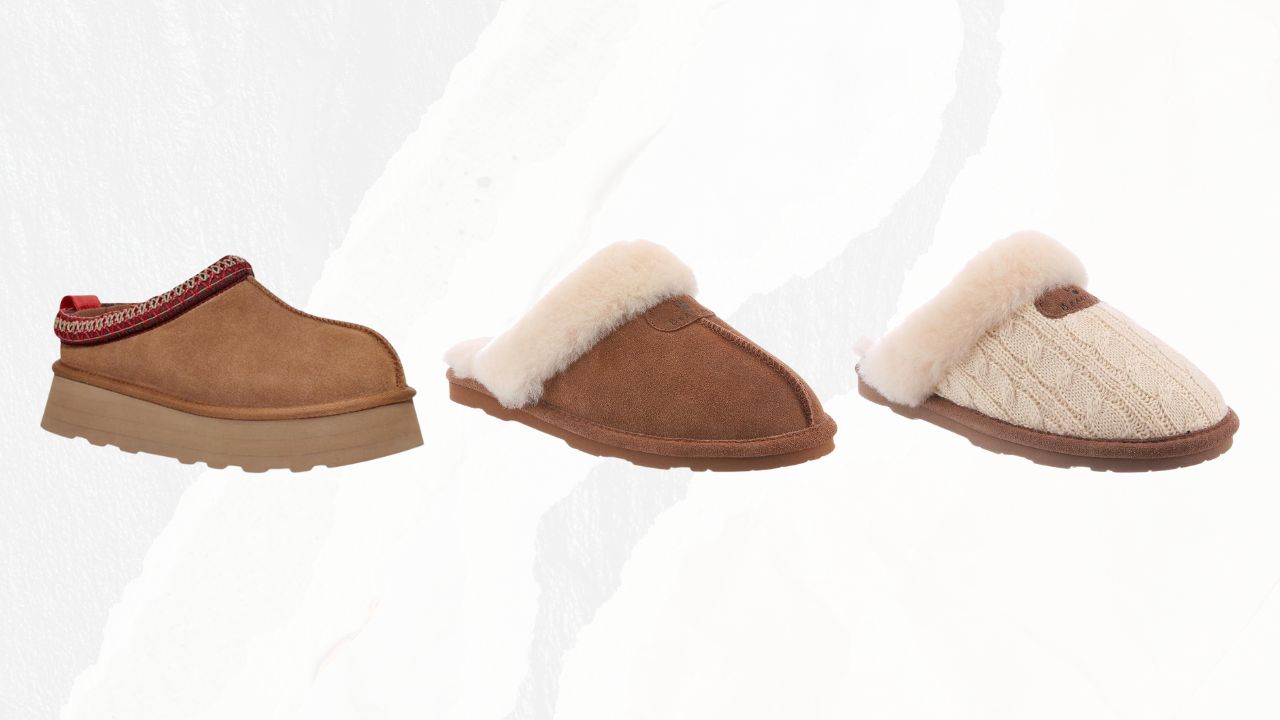 If you're looking for a footwear brand famous for being both comfortable and stylish, look no further than UGG. After gaining the Oprah Winfrey seal of approval in 2000, sales have continued to surge. Its shoes have been seen on many pairs of famous feet, including those of Serena Williams, Amy Adams, and Gigi Hadid.
But iconic shoes don't come cheap, so if you want a pair of cozy winter slippers without splashing out, there are some stunning dupes. Below, we'll explore some of the best affordable UGG Slipper alternatives.
---
INPAKSA
Slippers Platform Mini Boots
For a fantastic lookalike, slip your feet into the Women's Slipper Platform Mini Boots by INPAKSA. They have a chunky platform sole, fluffy wool lining, and an adorable braided ribbon design. It is priced at $49.98.
---
BEARPAW
Women's Loki Slippers
You can get a similarly snug look for a fraction of the price with BEARPAW's $44.48 Loki Slippers. They also use sheepskin to create a soft, cozy slipper with durable outsoles for versatile wearability.
---
WaySoft
Sheepskin Shearling Scuff Slippers
Alternatively, you can save some money by choosing WaySoft's Men's Shearling Slippers instead. With prices as low as $36.95, these slippers are made of 100% sheepskin, with a breathable design keeping feet at a comfortable temperature.
Dearfoams
Outdoor Scuff Slipper
Dearfoams makes a similar pair of slippers, priced at $44.95. Their Fireside Sheepskin Slippers are gorgeously soft and ultra-lightweight, with a fluffy collar and cushioned insole.
---
Dearfoams
Outdoor Scuff Slipper
Dearfoams also makes an affordable answer to these slippers, this time with their $45.05 Sydney Shearling Fur Slippers, also from the Fireside collection. These pairs are comfortable in a maximalist way, with a bold fluffy collar, cozy but breathable lining, and great UGG dupe silhouette.
---
BEARPAW
Effie Slipper
For just $53, you can mimic the UGG original with BEARPAW's Effie Slippers. They're also knit, with a snuggly sheepskin interior and a soft footbed for easy wear.
---
Fireside by Dearfoams
Greta Shearling Clog Slipper
You can also keep it cozy with another fantastic pair of Dearfoams' Fireside range pair of slippers. Their $44.99 Greta Shearling Clog Slippers are made with luxurious sheepskin that is both insulated and breathable, with plenty of internal space for your feet to rest.
---
Dearfoams
Fireside Shearling Moccasin Slipper
Dearfoams make the list once more with their Fireside Mel Shearling Moccasin Slippers. They have a very similar silhouette, with a sheep fur design and durable rubber soles that are perfect for all-day wear.
---
Despite being known primarily as sleepwear, UGG has proved that slippers can be stylish, too. As a result, they have millions of fans, including some of Hollywood's most fashionable celebrities.
However, if you're uncomfortable splurging on the originals, go for one of the great eight dupes mentioned above. They may be lower in price, but these UGG Slipper alternatives are just as plush and stylish as their originals.