Year after year, we're confronted with musical sensations and talents, but no one can match the storm NBA YoungBoy has created. He made huge waves in the musical industry and is one of the most recognized artists in the world.
His music is unique, and his lyrics are relatable and caught the attention of the young audience quickly. With a net worth of a jaw-dropping $6 Million, here's a look into America's most beloved young rapper.
From Rags To Stardom:
On October 20th, 1999, he was Born Kentrell Desean Gaulden, and later, he picked his stage name NBA YoungBoy. NBA is an acronym for "never broke again." His hometown is Baton Rouge, Louisiana. So, how did someone who has just started his journey reach where he is today? 
HHe took inspiration from fellow Rouge rappers Lil Wayne and Lil Boosie. He started writing his own lyrics and putting his music on social media platforms, and he obtained an audience and also caught the attention of many record producers. It was not until his mixtape "38 Baby" that he garnered huge attention as an artist.
After showcasing his talent through a mixtape, he kept creating music, and with every song, his fame kept skyrocketing. Some of his most successful albums are; "AI Youngboy" and "Until death calls my name." He has an amazing and distinct style of writing and aggressive delivery.
YoungBoy VS Fredo Bang
He is not away from or beyond controversies. His ongoing feud with a fellow Louisiana rapper, Fredo Bang, has kept him on social media because it has happened online.
They keep coming at each other with snarky comments. However, NBA YoungBoy's fans argue that he must not do it, as the unnecessary arguments overshadow his talent. He, on the other hand, is unapologetic about the things he does, says, or sings.
Romance And Fatherhood
His relationships have always been public, and he has eleven children from eight different women. He is currently married to his long-time girlfriend, Jazlyn Mychelle Hayes. They both got married earlier this year.
Dressing Style
It's not just his music, his fashion choices are pretty distinct too. He is known for his streetwear and opts for oversized hoodies, baggy jeans, and flashy jewelry. His style resonates with the audience, and he has been seen carrying his whole personality through what he wears.
He's wearing red jeans with a dark grey shirt underneath a multicolored cardigan. Michelle is matching her with the same cardigan and a pencil skirt. They both opted for white sneakers. NBA is wearing black glasses to complete his look. The family looks really happy, doesn't it?
He is wearing a white t-shirt and yoga pants under baby-pink shorts and a matching bandana. He is also wearing flashy silver bracelets and Adidas sneakers.
Here, he wears black striped trousers and a white sweatshirt with black suspenders. His silver watch matches the statement necklace around his neck. His black beanie and glasses match the trousers. He has completed his look with white sneakers.
The show stealer, from my point of view, is the cat who is wearing a bejeweled jacket.
---
---
Wiki | Bio
Net Worth
| | |
| --- | --- |
| Net Worth in 2023 | $ 6 Million |
Personal Information
| | |
| --- | --- |
| Real Name | Kentrell DeSean Gaulden |
| Nickname | NBA YoungBoy, YoungBoy Never Broke Again |
| Occupation | Rapper, Singer, Songwriter |
| Birthday | October 20, 1999 |
| Age | 23 Years Old (Calculate Age To Current Date) |
| Birthplace | Baton Rouge, Louisiana, U.S. |
| Zodiac or Birth Sign | Libra |
| Nationality | American |
Physical/Body Statistics
| | |
| --- | --- |
| Height | 5 ft 9 in (175 cm) |
| Weight | 67 kg (148 pounds) |
| Chest | / |
| Waist | / |
| Hips | / |
| Shoe size | 8 (US) |
| Hair Color | Black |
| Eye Color | Dark Brown |
| Have Tattoos? | Yes |
Family
| | |
| --- | --- |
| Mother Name | Sherhonda Gaulden |
| Father Name | Unknown |
| Brother's Name | Ken Gaulden |
| Sister's Name | Telee Gaulden |
Personal Life
| | |
| --- | --- |
| Marital Status | Married |
| Children | 11 |
| Spouse | Jazlyn Mychelle Hayes |
| Son | Kayden Gaulden, Kamron Gaulden, Taylin Gaulden, Kacey Alexander Gaulden |
| Daughter | 4 |
---
Quick Facts
Calculate Celebrity Age To Current Date
Who Is NBA YoungBoy Dad?
NBA YoungBoy's dad was arrested and sentenced to 55 years in prison for a robbery gone wrong when NBA YoungBoy was only eight years old.
NBA YoungBoy recently sent a message to his father on his Instagram stories, saying he would be smiling no matter if he sees him again or not.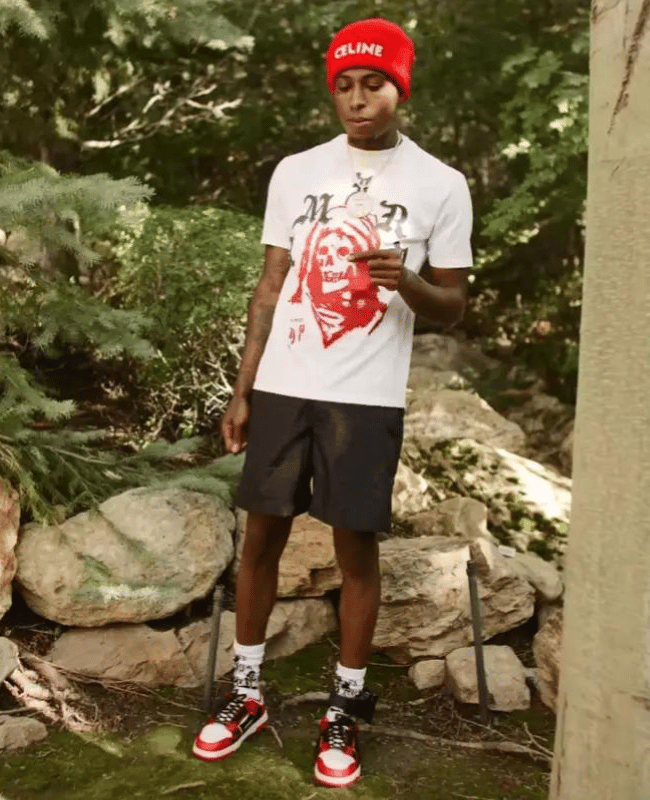 When Did NBA YoungBoy Die?
NBA YoungBoy is not dead. The rumors of his death are false and have been debunked by several sources. The rapper, whose real name is Kentrell DeSean Gaulden, is currently in jail awaiting trial on federal weapons charges.
He was arrested in March 2021 and taken into custody in Louisiana. He has not been found dead in his cell, as some social media posts have falsely claimed. NBA YoungBoy is still alive and making music. He recently released a new album called Sincerely, Kentrell in September 2021.
When Is NBA YoungBoy Birthday?
NBA YoungBoy, whose real name is Kentrell DeSean Gaulden, was born on October 20, 1999 in Baton Rouge, Louisiana.
Others
---
Article Sources

NBA YoungBoy - Wikipedia
https://en.wikipedia.org/wiki/YoungBoy_Never_Broke_Again