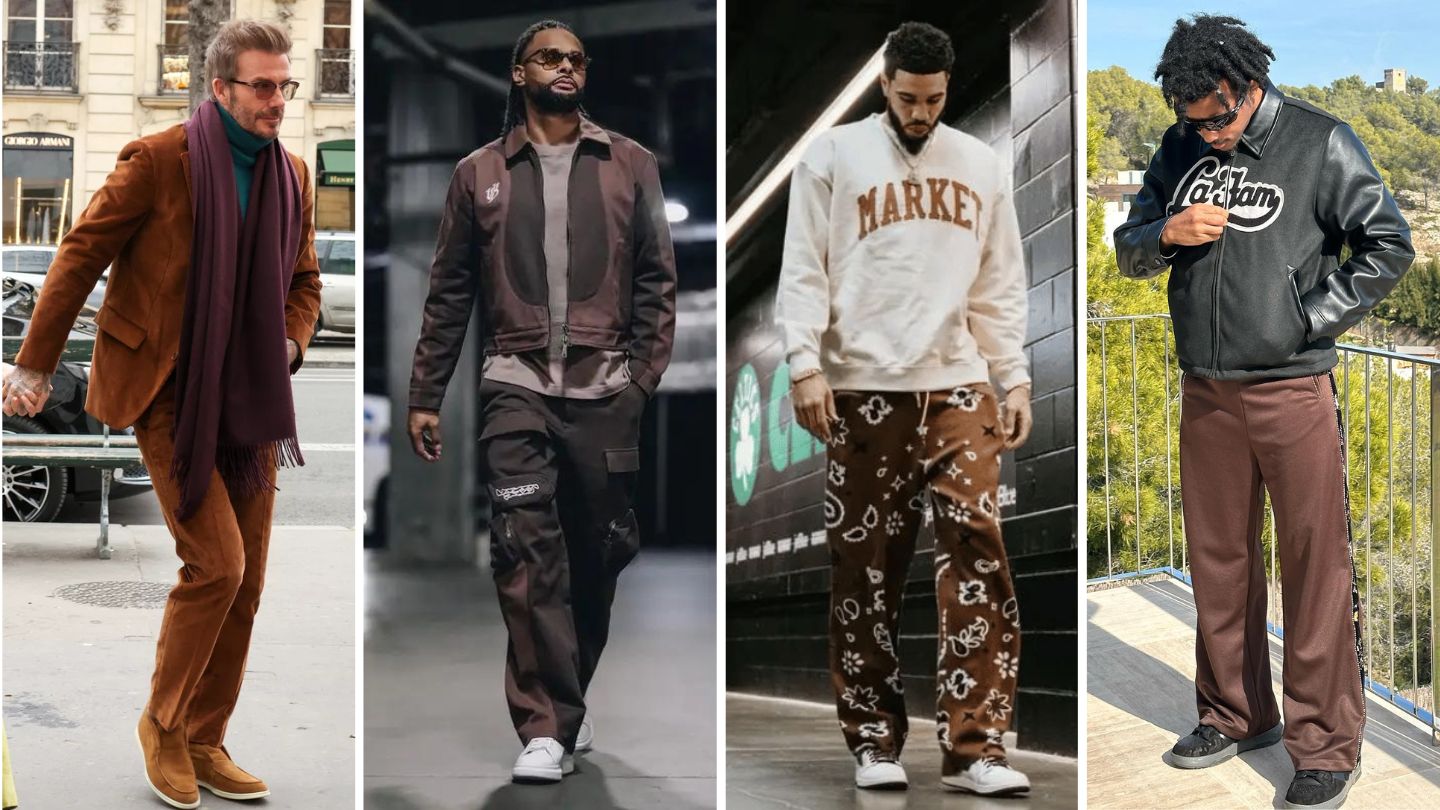 Brown pants are a rare sight on the street because style is a little tricky. They look too formal to be casual and too casual to look formal on their own, so what to do with them because they look so adorable hanging in your closet?
Hi! I am a personal stylist, and my job is to help you to make good use of everything in your closet and invest in new things smartly. Tan or brown is the color that goes with many other colors; all you have to do is experiment with it a bit.
From sweatpants to trousers and corduroy, they come in all stuff, and you have to choose the color and things according to the look you want to create.
---
1. Kapital Velvet Trimmed Tech Jersey Track Pants
Retailed at $390, this one comes from Kapital and is made of tech-jersey material. It has a printed velvet patch detailing on the sides. It has that jersey Strech to it and is wide-legged.
One way to style it would be with an Ivory jacket or hoodie because Ivory goes well with this shade of brown. Another option will be a cream-colored jacket. Do not wear a longer or oversized coat with it because it will look sloppy.
If you want to play it safe, pair it with any black jacket you own. Match your shoes with the jacket and wear a pair of sunglasses.
Jules Kounde is wearing it with his La Fam All-Black Varsity Jacket and black sneakers.
---
2. Valentino Gabardine Trousers
Retailed at $765, this one is from Valentino. On the color wheel, purple is one of the contrasting colors of brown, Astrid grey, green and yellow. The color selection is based on the shade of brown you are wearing. This one is more of a chocolate brown, and the purple/plum shade will go beautifully with it.
It is straight-legged trousers and will look good with a hoodie or a sweatshirt of the given colors. Try matching the color of the pants with your jacket and wear white sneakers with it.
Another way to style it would be with a green sweatshirt and matching green sneakers or Converse.
PJ Tucker styled the pants with a purple Valentino sweatshirt and a varsity jacket.
---
3. Mnml Paisley Knit Brown Sweatpants
If you're a floral-patterned guy, these are for you. For only $64, you can get this fantastic pair of sweatpants.
By the rule of thumb, sweatpants go with sweatshirts, so choose an Ivory, brown sweatshirt, or hoodie. If the top is graphic and has a hint of brown, it would be an ideal match. Wear white sneakers, and you're good to go.
Jayson Tatum has styled them with the Market vintage crew neck and white sneakers.
---
4. Travis Scott Merch McDonald's Smile Brown Sweatpants
Retailed at $125, this one is from the Rapper Travis Scott's merch.
It will go super well with your yellow hoodie or a sweatshirt. It has yellow, blue, and red prints, which means it will also work well with a blue and red sweatshirt or a hoodie.
Match your sneakers to the color of your shirt, and add a hat for that extra hip look.
42 Dugg has rocked it with an all-Travis attire. I love the transition of Ivory between his brown pants and matching hat.
---
5. Unseen Being UB 2 Tone Brown Work Cargo Pants
Here, Patty Mills wore the cargo pants with a matching brown jacket from Unseen. He chose white sneakers and black glasses to complete his look.
Retailed at $200 only, these are a blend of brown and olive green. Cargo pants give out the ultimate masculine vibe, and you tend to look very butch and classy.
One option would be to wear it with an essential Ivory, greyish, olive green, or a black T-shirt and match it with army boots. If you're going for a badass vibe, this will be amazing.
Another option would be to buy the same-colored jacket from UNSEEN, and make it look like a full suit. Pair it with a basic tee, and you'll have one hell of an outfit.
If you have a camouflage jacket, these pants will also look fantastic. Pair the pants with your favorite white sneakers, and you'll be ready.
---
6. Fendi Brown Silk Pants
Retailed at $1450, this one is made for a black or a brown hoodie or a sweatshirt. You can pair it with something basic because it will break the transition with its patterns.
Plain black sneakers look cool, but if you want to leave your comfort zone, I suggest red sneakers. It will be an additional pop of color in the whole black and brown thing.
Lunay is iconic when it comes to his fashion choices. Here, he added blue framed glasses to add a pop of color to another wise brown and black outfit.
---
7. Akings Corduroy Brown Cargo Pants
Retailed at $210 only, these are cargo pants in brown.
Pick your olive-green hoodie and a pair of green sneakers—it could be any transition of green, and there you have your fabulous look. It will grab all the attention on the street.
If you're warm-toned, I can't tell you how much your skin will agree with this olive-green and tan look.
Stunna 4 Vegas has styled it beautifully with his Amiri Bones black jacket and Amiri skeleton high-top sneakers.
---
8. Marni Two Toned Pants
Retailed at $296, you can buy these two-toned pants that blend khaki and chocolate brown. If you have a T-shirt with a white, brown, and a bit of red color combo, you can wear it with these pants. Try wearing an essential pair of sneakers. Avoid statement colors because you don't want to pull away the attention from your pants.
Another way to wear it will be with a red or green shirt. Trust me on this one. Red and green are contrasting colors of brown and khaki; together, they make one hell of a combination. Red will add a pop of color, making your outfit look good.
Here, Key Glock wore it with a Marni Brown Shirt Coat that matches the colors of the pants, and there is red on the color, breaking the monotone beautifully.
---
9. Loro Piana Jasper Pleated Corduroy Pants
Retailed at $1050 only, these pants will allow you to create the perfect monochrome look.
It would be best if you bought a Corduroy blazer with your pants. Pick olive green, beige, Ivory, or a dark purple turtleneck sweater. Add your favorite suede sneakers or loafers. Just keep it all brown. You could stop here because the olive green has broken the monotone, or you could go one step further and add a scarf around your neck opposite your sweater's color. For example, go for a plumb scarf if the shirt is olive green.
David Beckham has styled it here with all Loro Piana items and a pair of tan shades.
---
As you can see, from monochromatic to di and tri-chromatic outfits, brown cand do wonders for you. So, take the first step now and stylish yourself.
What to do next
Immerse yourself in the rich tapestry of fashion on our website, opening the door to limitless style possibilities. Your next fashion journey is ready and waiting!