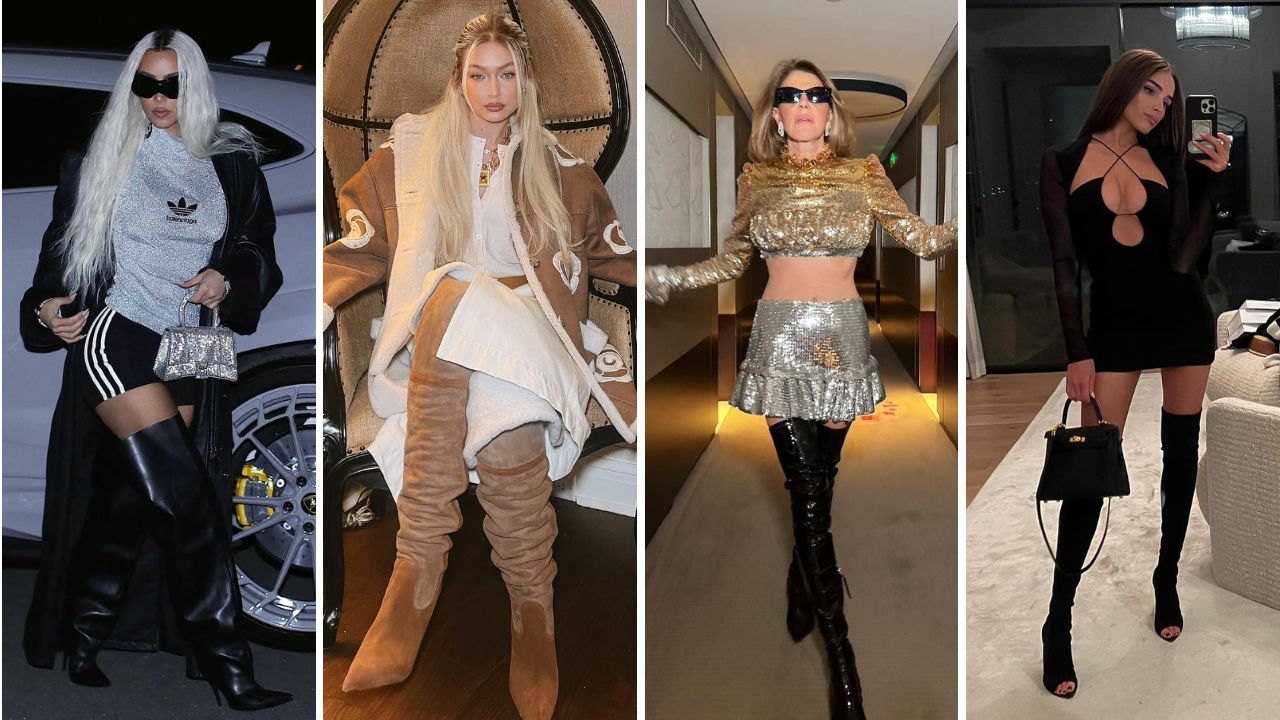 Thigh high boots are a fashion marvel. In terms of style, they are pure art. Whatever the material they're made of, nothing can add more zing to your look than thigh-high boots. They look sexy and classy, and if you ask me, they'll make you look like the girl boss you are. Without a doubt, everyone adores them, but only a few know the art of styling them.
If you have a few rotting in your closet or are considering buying a few, fear not; I am here to help you style them the right way.
Greetings from a fashion enthusiast just like yourself. I am a personal stylist and have worked with countless clients—both celebrities and non-celebrities. In my career, I got to style women of all ages and nationalities, and one thing is shared: the desire to look their best.
The options I will lay for you below are the ones I have styled multiple times, not only for my clients but myself. As a reference, I will also give you celebrity pictures and make suggestions to carry them with other options.
---
1. Amina Muaddi exclusive Jahleel leather thigh-high boots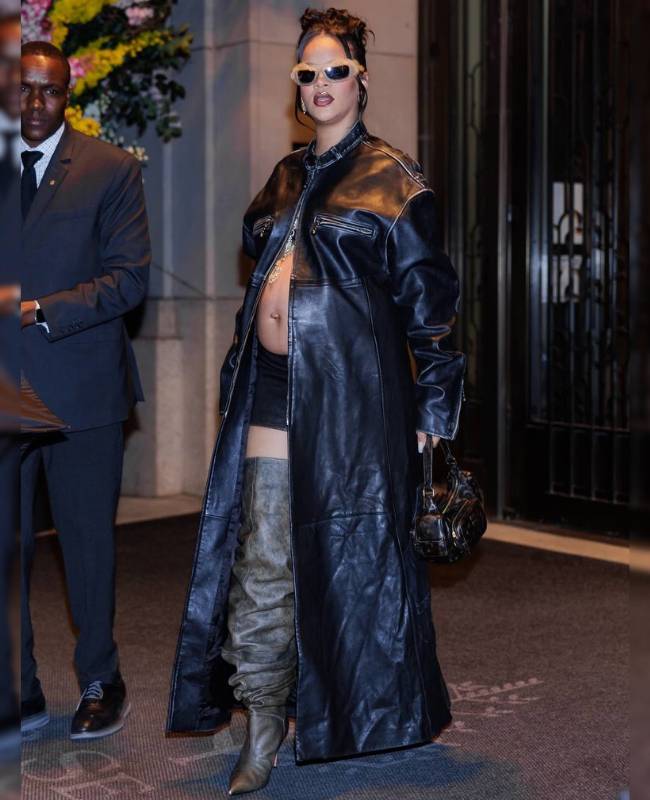 Quick Highlights:
95mm Heel
Denim Leather Material
Pointed Toe
Price: $1,900
Our girl RiRi wears boots with a black mini-leather skirt and an oversized long coat.
These will look super-attractive with your little pleated skirt and shorts (Preferably black). If you're wearing a cropped top, don't forget to add a baggy blazer or a jacket over it.
Another style would be an oversized white buttoned-down shirt over black shorts. Pleated skirts and thigh-high boots are best friends. So, the third way to style them would be with a pleated skirt under a skin-tight sweater. Keep the accessories to a minimum if you want your boots to steal the show.
---
2. The Attico Cheope Cuissard Boots
Quick Highlights:
Edgy Heel
Calfskin Leather
Pointed Toe
Price: $1,650
Who could be a better style inspiration than Anna Dello Russo wearing these beautiful boots under a sequined fit? My, my, are you feeling the heat?
Say hello to your sequined dresses and skirts; I have found the best boots for them. These will look aesthetic with your night out and formal wear. Do you want to look different at that party? I have got your back, sis. Pull out your sequined skirt and a cropped top to match that. Silver or gold—the choice is yours.
Now, don't worry about the accessories because sequined stuff barely needs any. Wear these boots and some minimalistic earrings, and be on your way. These boots are smooth to the touch, and if you care for them properly, they will last long.
---
3. Burberry Black Zip Tall Boots
Quick Highlights:
Calfskin Leather
Squared Toe
Edgy Heels
Price: $2,590
Jordan Alexander is wearing the boots with short and buttoned-down school-girl skirts. She added a pop of color with her Fendi bomber jacket.
These can be styled any way you want. For instance, if you want to go with a chic vibe, these will work super well with a blazer over a tucked in skin-tight sweater paired with skinny jeans. If you want to look formal, you can wear a body con dress above them. Another way to make them look sporty and athletic would be to wear them with a hoodie or with a varsity jacket.
---
4. Gianvito Rossi Fiona Boots
Quick Highlights:
Stiletto Heel
Pointed Toe
Price: $892
Heidi looks super cool wearing these boots with her pink Seroya mandy dress.
When it comes to neutral and silhouette shoes, they always go well with a bit of a pop of color. This one is the best example of that. Pick your neon-colored outfit. It could be a dress, a sweater, or a hoodie.
These boots give a knitwear feeling to the touch and look amazing with your bodycon and sun dresses. The good thing about neutral boots is that they look good with plains and printed stuff.
---
5. Roger Vivier Viv Go-Thick Leather Tall Boots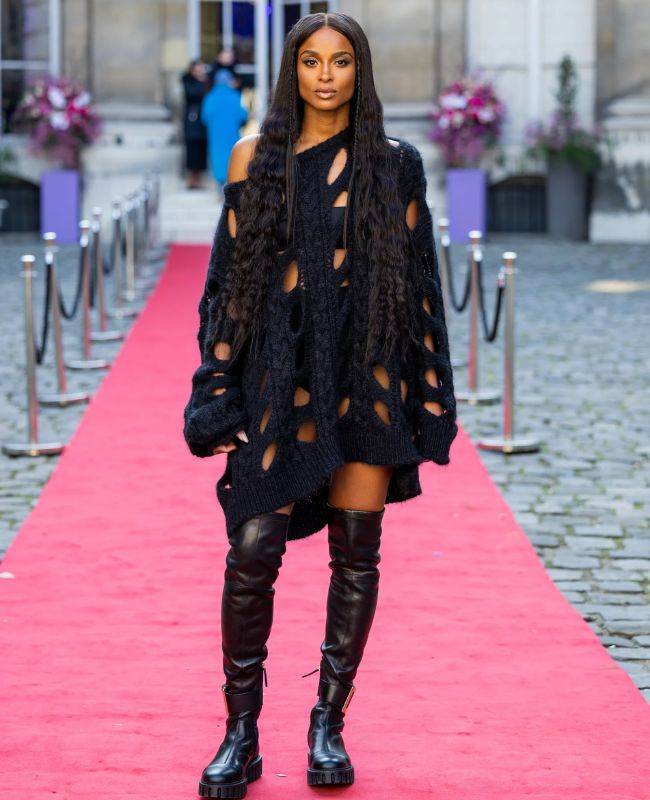 Quick Highlights:
Calfskin Leather
Almond Toe
Silver Hardware
Chunky Heels
Price: $2,695
Ciara looks like the queen of gothic fashion while wearing these boots with her Celine boxy sweater.
Are you a gothic girl? This is best for your gothic, dark feminine Wednesday Adams looks. These have chunky heels, and you would love them for those edgy and dark looks. They would work well with many things, from little black dresses to bodycon dresses. They will look amazing with your vinyl pants and short skirts. Oversized sweater dresses will also work well with them. For these shoes, the sky is the limit.
I had a chance to style a client who chose to wear her black bodycon dress with these. We styled it with some silver jewelry, which looked amazing. The leather on the boots is not flashy but matte and rough.
---
6. Stuart Weitzman Lowland Over-the-Knee Suede Boots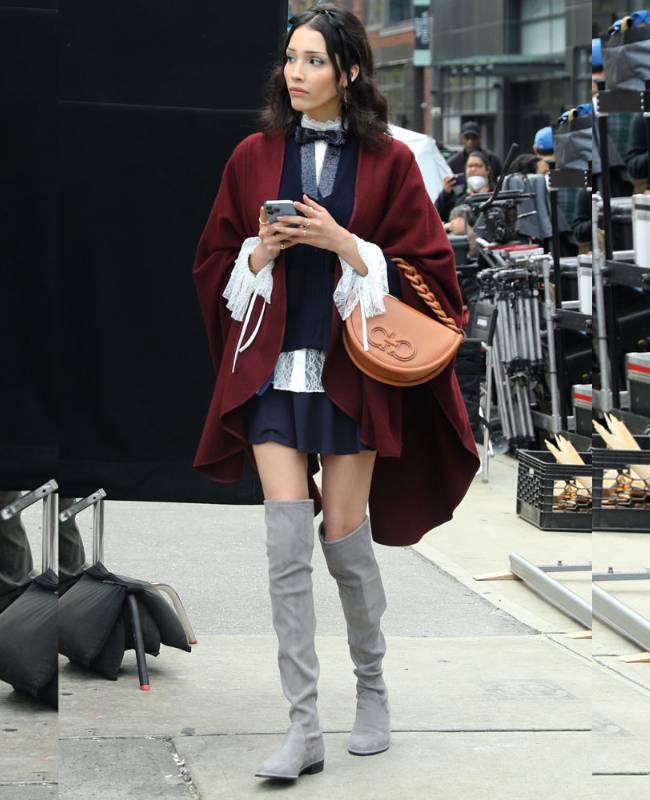 Quick Highlights:
Suede
Flats
Nude Color
Price: $950
Zion has styled it with a mix and match of maroon, white and blue. Look at how her Loro Piana Regina Leather-Trim Cashmere cape is doing justice to her look.
Pick the brightest colors from your wardrobe, and I'm talking maroons, blacks, neon pinks, purples, or any colors you like. It has to be a midi or mini dress or a skirt, and style them with these nude boots. Trust me; it will be your best look so far.
---
7. Mach & Mach Black Double Bow Boots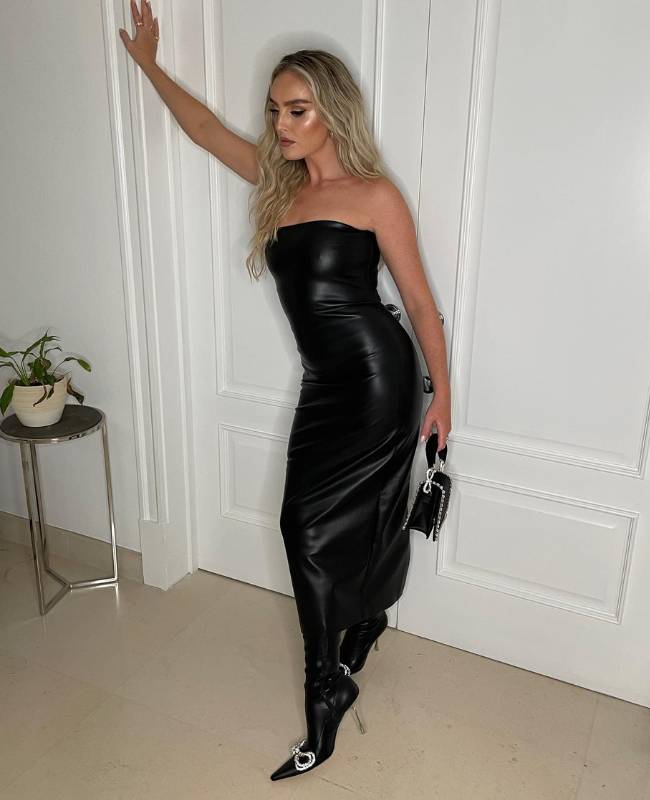 Quick Highlights:
Leather
Pencil Heel
Pointed Toe
Price: $500
Perrie Edwards rocked the boots with her Cult naked Killa dress. She looks like a literal Barbie.
These are straight out of a Barbie's wardrobe. They have a bow embellished on the top and have the cutest pointed toe. These are black ties and formal. I suggest you carry them with your ballgowns and body con dresses for that formal party or a dance. You'd look like a doll with these dainty and delicate shoes.
---
8. Magda Butrym Suede Over The Knee Boots
Quick Highlights:
Suede
Pointed Toe
Pencil Heel
Price: $1,540
I saw Gigi Hadid wearing them; how could I not have bought them? These are an extension of the Uggs. These are Good for winters; the fun part is that they'll work super well with the layers and your skinny pants. So, put on your sweater, trench coat, and jacket; these will work with anything and everything.
Like I said, Gigi made them work with a million layers of clothing. She's always on point, isn't she?
---
9. Gianvito Rossi Gotham Cuissard Peep Toe Thigh High Boots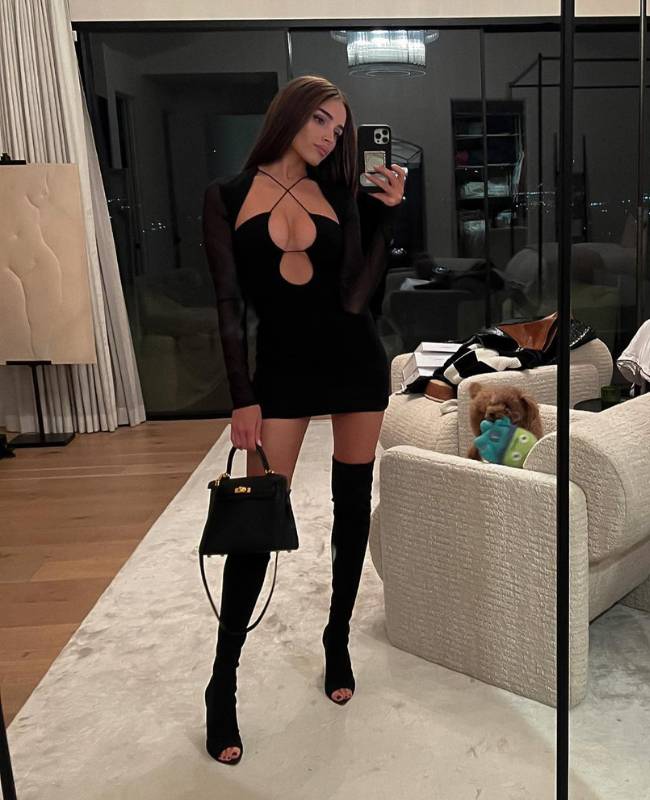 Quick Highlights:
Leather
Peep Toe
Stiletto Heel
Price: $1,775
Olivia Culpo gives the sexiest vibe by pairing the boots with her Camila Coelho Faith Mini Dress and a Hermes tote bag.
These are going to make you feel like cat-woman—dainty yet badass. Choose one of the sexiest of your dresses. Ideally, you can never go wrong with a bit of black clothing. Now, make it backless or a strappy one. Add a good bag (If you're looking for a good one, check budget-friendly designer bags on our website) and a pair of sunglasses. Oomph your look with gold jewelry and dare people to take their eyes off you.
---
10. Balenciaga Waders Leather Knee-High Boots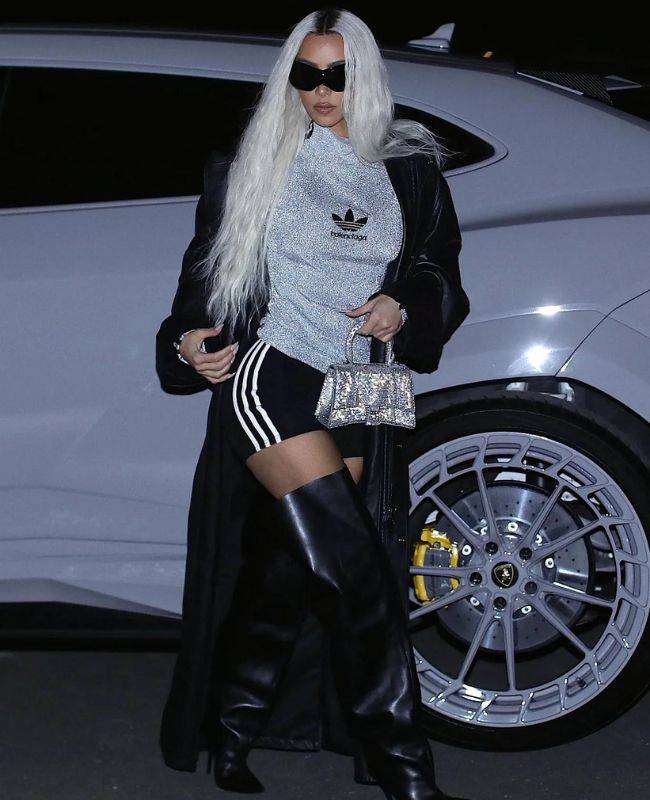 Quick Highlights:
Lambskin Leather
Zip Closure
Pointed Toe
Price: $625
Kim looks badass wearing these boots with her Adidas shorts and a T-shirt.
Now these are made for your sporty and athletic looks. Yes, they have a pointed toe and a pencil heel, but let me paint a picture. Pick a T-shirt, any color, and your sporty shorts. Put on shoes and an oversized log coat or a jacket. Play with colors but keep it a bit athletic. Wear your favorite glasses to oomph the look and be on your way.
Another way would be to wear them under a bodycon midi dress and pair them with a short leather jacket. You could break the monotone with a maroon shirt underneath a black leather jacket.
---
Well, whoever you are and whatever your style goals are, you must have a pair of thigh-high boots in your closet. Add these boots to your chic, badass, sexy, and bougie looks. You can style them any way you like, and if you follow the guidelines, you will see that they will go well with anything and everything.
They are a little pricy, but they are worth investing in. If you look at it, they have a re-sale market as well. Moreover, you could also buy them from different websites in the re-sale market. So, do not wait another day; grab your card and buy the best item in your wardrobe.
What to do next
If you are attracted to Bougie and the celebrity lifestyle, I can guide you to cheaper options to achieve that. We're in this together, right? Explore more on this page!